Description
Description
For aggressive and uncompromising offensive players.
Very stiff, very fast, incredibly dynamic.
Technology: 5 veneers made of ayous (core veneer, 4 mm), ayous (2+4) and yellow Fineline (1+5, outer veneer)
THE DONIC EPOX SYSTEM: EVERY BLADE IS UNIQUE
The blades in the DONIC EPOX series are not glued with a liquid glue, but with an adhesive film made of epoxy resin. During the gluing process, the veneers are pressed together and heated for 20 minutes. This causes the epoxy film to liquefy and firmly bonds the veneers together.
The middle ply and the intermediate plies are made from monoblade veneers. Only one-piece veneers are used in this monoblade technique. Other traditional techniques often use several pieces that are put together. This means that only one blade is made from each pressed plate. This results in the creation of high-quality, unique blades.
The unique method of gluing the plies of the EPOX blades with epoxy resin provides them with a special level of rigidity. Depending on the veneer composition, this leads to improved dynamics or excellent control, all while preventing unpleasant vibrations.
The edges on the transition between the handle and the blade face have been carefully rounded off. As a result, the blades in the EPOX series are incredibly comfortable to hold and very easy to handle.
THE DONIC FINELINE COVERED SYSTEM: SAFE ALL ROUND
All DONIC EXPOX blades have edge protection made of FINELINE wood and are manufactured with FINELINE technology. They don't just look good, they are also equipped with 360° edge protection. Thanks to their thin outer veneers, these blades are also very light in weight.
DONIC EPOX: High-quality, unique blades carefully manufactured with a love for detail and cutting edge technology.
control: 6
speed: 10+
elasticity : stiff
weight: 90g
layers: 5
Characteristics: OFF, OFF +
More Info
Additional information
| | |
| --- | --- |
| Handle shape | Flared, Straight, Anatomic |
| Make up service | Make up service £5.00, No make up required |
Delivery & Information
Delivery Information - we are renowned for our prompt delivery, however, please read carefully before ordering to avoid any confusion or disappointment
STANDARD DELIVERY TO THE UK
UK MAINLAND DELIVERY -  Zones 1, 2 and 3 on the map
STANDARD DELIVERY
Q) How much does our STANDARD UK delivery cost?
A) Our Standard UK delivery is £4.99 on every single order below £120, with no minimum spend.
Orders above £120 qualify for free delivery
Q) Which carrier do you use for STANDARD delivery?
A) TA) This will depend on the weight and/or value of your package. We will either use Royal Mail or DPD.
Both services are 'Trackable'. We decide in all cases which carrier is used, although we will consider special requests to use either one or the other.
Q) How soon will my order arrive?
A) Our official quoted delivery time 5-7 working days. This does not include the day the order was received, weekends or bank holidays, although Royal Mail will deliver on a Saturday.
If you place your order after 2pm, we may not process and despatch your order until the following working day. However, your delivery time may often be less than the quoted 5-7 working days.
With tables, robots and other larger items, delivery can take between 7 - 14 days.
In the event items are not in stock, we will call customer immediately to advise approx lead time.
To summarise our standard delivery, as an example, if you were to order on a Saturday, we would ship your order on a Monday, you would normally receive it either Tuesday or Wednesday, but please allow up to Friday.
If it's urgent, please use call us on 01223243047 and we will make every possible attempt to get the product delivered to you sooner.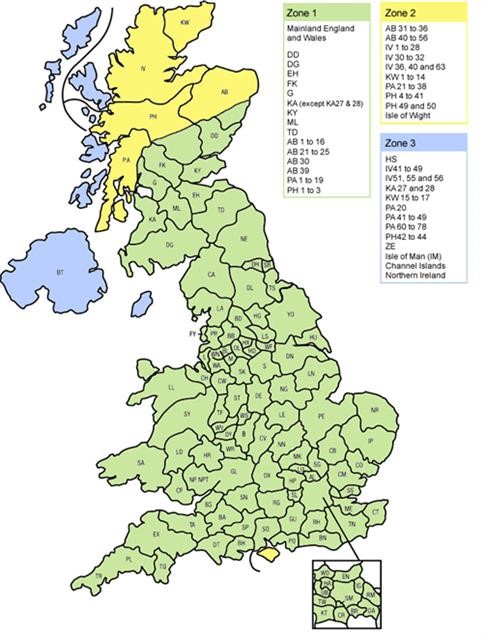 Alternative delivery addresses.
At our discretion, we reserve the right to only deliver to the card billing address as a fraud prevention measure.
OVERSEAS DELIVERY
We offer very competitive overseas delivery rates.
Overseas orders will be charged based on the country of destination, and will be charged at checkout.

Q) How much does our OVERSEAS delivery cost?
A) ZONE PRICES AS PER THE DPD MAP SHOWN
Zone 1 - £11
Zone 2 - £12
Zone 3 - £16
Zone 4 - £26
Zone 5 - £35
Please call + 44 1223243047 or email tabletennis@jarvissports.co.uk for a delivery quote for outside Europe.
Q) Which carrier do you use for OVERSEAS delivery?
A) We almost always use DPD.  This service is fully 'Trackable'.  We reserve the right to use an alternative carrier and we decide in all cases which carrier is used.
Q) How soon will my order arrive?
A) Please see the DPD map shown, but typical delivery times range between 2-5 working days.
All Newgy products and Table Tennis Tables are excluded from OVERSEAS delivery.  Any orders placed for these items will be cancelled and refunded.