Description
Description
– Digital table tennis robot with recycling net system
– With 64 pre-programmed drills for various playing level
– Delivery with 72 DONIC Coach P40+ 2-star balls
– It requires only a few minutes to assemble and dismantle
– All replacement parts obtainable in the Service-Centre
The digital tt- robot for competition players and for clubs.
Always there for you:
Your own personal training partner.
Improved performance, quicker and more precise
ROBO-PONG 2055 has been fitted with the latest electronics and software, giving it more accuracy, reliability and speed than its predecessor the ROBO-PONG 2050.
Robo-Pong goes digital
DONIC highly recommends its clever Digital Table Tennis Trainer Robo-Pong 2055 for your every requirement. Digital control provides exact control over speed, delivery and precise placement. The Robo-Pong 2055 in normal mode offers simple manual control over all functions such as speed, spin, placement and delivery between strokes. During training one is able to access 64 drills and practise like a professional. The cell-phone-like menu system is extremely easy to operate and is available in 6 languages. It is possible to create and store your own exercises when hooked up to your Windows PC.
The perfect partner for all skill levels
The top player can practice on his foot work and stamina, improve his timing and strokes for more speed and placement. The up and coming player will be able to fine-tune all the important strokes. Advancement in footwork and stamina will come at a much faster pace. The beginner and hobby player can learn ball control, coordination and most principal shots. One can set up your own training programme by using the 64 drill variations and enjoy the fun with this amazing table tennis partner.
The Robot Head
Can deliver up to 170 balls per minute with a maximum speed of 160 km/h. It can be programmed for topspin, counter hitting, side and backspin. Precise ball placement is achieved with 21 oscillating positions and 30 different speeds.
Digital Control Box
64 chosen exercises which can be programmed for every playing standard (described in the handbook). You may choose ball speed, interval and placement. Windows Computer suitable for your own set exercises. Set-up handbook
Ball collection net system
The surrounding net is simply and quickly assembled and taken down. It collects the balls and guides them back to the robot, enabling training to be continued.
Delivery & Information
Delivery Information - we are renowned for our prompt delivery, however, please read carefully before ordering to avoid any confusion or disappointment
STANDARD DELIVERY TO THE UK
UK MAINLAND DELIVERY -  Zones 1, 2 and 3 on the map
STANDARD DELIVERY
Q) How much does our STANDARD UK delivery cost?
A) Our Standard UK delivery is £4.99 on every single order below £120, with no minimum spend.
Orders above £120 qualify for free delivery
Q) Which carrier do you use for STANDARD delivery?
A) TA) This will depend on the weight and/or value of your package. We will either use Royal Mail or DPD.
Both services are 'Trackable'. We decide in all cases which carrier is used, although we will consider special requests to use either one or the other.
Q) How soon will my order arrive?
A) Our official quoted delivery time 5-7 working days. This does not include the day the order was received, weekends or bank holidays, although Royal Mail will deliver on a Saturday.
If you place your order after 2pm, we may not process and despatch your order until the following working day. However, your delivery time may often be less than the quoted 5-7 working days.
With tables, robots and other larger items, delivery can take between 7 - 14 days.
In the event items are not in stock, we will call customer immediately to advise approx lead time.
To summarise our standard delivery, as an example, if you were to order on a Saturday, we would ship your order on a Monday, you would normally receive it either Tuesday or Wednesday, but please allow up to Friday.
If it's urgent, please use call us on 01223243047 and we will make every possible attempt to get the product delivered to you sooner.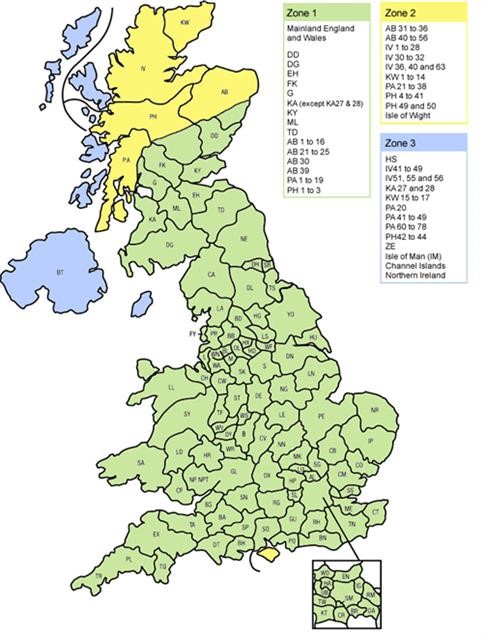 Alternative delivery addresses.
At our discretion, we reserve the right to only deliver to the card billing address as a fraud prevention measure.
OVERSEAS DELIVERY
We offer very competitive overseas delivery rates.
Overseas orders will be charged based on the country of destination, and will be charged at checkout.

Q) How much does our OVERSEAS delivery cost?
A) ZONE PRICES AS PER THE DPD MAP SHOWN
Zone 1 - £11
Zone 2 - £12
Zone 3 - £16
Zone 4 - £26
Zone 5 - £35
Please call + 44 1223243047 or email tabletennis@jarvissports.co.uk for a delivery quote for outside Europe.
Q) Which carrier do you use for OVERSEAS delivery?
A) We almost always use DPD.  This service is fully 'Trackable'.  We reserve the right to use an alternative carrier and we decide in all cases which carrier is used.
Q) How soon will my order arrive?
A) Please see the DPD map shown, but typical delivery times range between 2-5 working days.
All Newgy products and Table Tennis Tables are excluded from OVERSEAS delivery.  Any orders placed for these items will be cancelled and refunded.