Description
Description
Product information "DONIC NEWGY ROBO-PONG 3050XL"
– Versatile digital table tennis robot
– 2-wheeled ball thrower with oscillation
– With recycling net system
– 100+ pre-programmed drills
– Navigation through Newgy App and Bluetooth® technology
– Delivery with 72 DONIC Coach P40+ 2-star balls
– All replacement parts obtainable in the Service-Centre
Your favourite new training partner -Training becomes more pleasure
The Robo-Pong 3050XL table tennis robot is a game changer! It revolutionizes the way you can train and practice! It was developed to create the most human-like playing and training experience for you. The life-like features enable you to perfectly simulate any opponent from the recreational, beginner ping pong player to the professional, competitive table tennis athlete.
The easy-to-use Newgy APP and Bluetooth® technology allows you to navigate easily with the simple touch of a button. You can decide to have a basic playing session, advanced training session, design your own training session or a full-body aerobic workout session.
Robo-Pong 3050XL really is the table tennis tool for everyone – easy enough for a beginner yet challenging enough for a pro!
Features and Benefits:
2 throw wheels with independently programmed motors spin forward and/or backward to achieve true separation of spin and speed, while producing a wide variety, degree and combination of spins – including topspin, underspin, sidespin and no-spin. Achieve more spin without having to increase speed.
User-friendly Newgy App controls all robot functions through Bluetooth® (Operates by user's personal device, such as a smartphone, tablet or laptop. This robot can function either through the Newgy APP via a Bluetooth® connection for iOS and Android or through a wired USB connection for Windows. Windows 10 users may download the Windows Newgy APP at https://www.newgy.com/pages/downloads.
Drill Mode: choose from a vast selection of more than 100 pre-programmed drills including Introductory, Beginner, Intermediate, Advanced, Bonus and Exercise. Create, save and run your own Custom drills. Save your favourite pre-programmed drills and custom drills in your Drill Library for quick and easy access.
Control Mode: choose Standard for basic ball control options such as location on the table, type of spin (top spin, back spin, no spin), type of ball (serve or regular), amount of spin, side spin direction and side spin amount. Or choose Precision for a wider, more precise range of ball control options such as number of balls, wait time, top and bottom motors/wheels speeds and frequency settings, oscillation, height and rotation.
Indicator Lights on the robot head notifies you of the exact spin on the outgoing ball.
Recycling Net System to capture your returns and recycle the balls for non-stop action.
Fits all standard table tennis tables and is quick and easy to setup, take down, store and transport; no assembly or tools required.
Delivery & Information
Delivery Information - we are renowned for our prompt delivery, however, please read carefully before ordering to avoid any confusion or disappointment
STANDARD DELIVERY TO THE UK
UK MAINLAND DELIVERY -  Zones 1, 2 and 3 on the map
STANDARD DELIVERY
Q) How much does our STANDARD UK delivery cost?
A) Our Standard UK delivery is £4.99 on every single order below £120, with no minimum spend.
Orders above £120 qualify for free delivery
Q) Which carrier do you use for STANDARD delivery?
A) TA) This will depend on the weight and/or value of your package. We will either use Royal Mail or DPD.
Both services are 'Trackable'. We decide in all cases which carrier is used, although we will consider special requests to use either one or the other.
Q) How soon will my order arrive?
A) Our official quoted delivery time 5-7 working days. This does not include the day the order was received, weekends or bank holidays, although Royal Mail will deliver on a Saturday.
If you place your order after 2pm, we may not process and despatch your order until the following working day. However, your delivery time may often be less than the quoted 5-7 working days.
With tables, robots and other larger items, delivery can take between 7 - 14 days.
In the event items are not in stock, we will call customer immediately to advise approx lead time.
To summarise our standard delivery, as an example, if you were to order on a Saturday, we would ship your order on a Monday, you would normally receive it either Tuesday or Wednesday, but please allow up to Friday.
If it's urgent, please use call us on 01223243047 and we will make every possible attempt to get the product delivered to you sooner.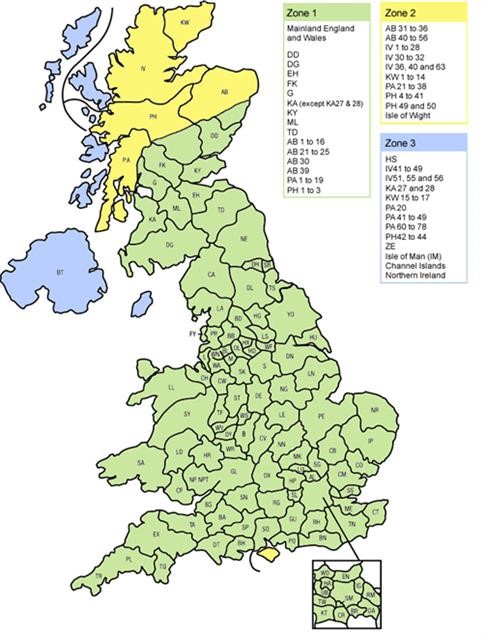 Alternative delivery addresses.
At our discretion, we reserve the right to only deliver to the card billing address as a fraud prevention measure.
OVERSEAS DELIVERY
We offer very competitive overseas delivery rates.
Overseas orders will be charged based on the country of destination, and will be charged at checkout.

Q) How much does our OVERSEAS delivery cost?
A) ZONE PRICES AS PER THE DPD MAP SHOWN
Zone 1 - £11
Zone 2 - £12
Zone 3 - £16
Zone 4 - £26
Zone 5 - £35
Please call + 44 1223243047 or email tabletennis@jarvissports.co.uk for a delivery quote for outside Europe.
Q) Which carrier do you use for OVERSEAS delivery?
A) We almost always use DPD.  This service is fully 'Trackable'.  We reserve the right to use an alternative carrier and we decide in all cases which carrier is used.
Q) How soon will my order arrive?
A) Please see the DPD map shown, but typical delivery times range between 2-5 working days.
All Newgy products and Table Tennis Tables are excluded from OVERSEAS delivery.  Any orders placed for these items will be cancelled and refunded.