Description
Description
All-round and defensive players who put a lot of importance on rotation during spin and act with undercut balls.
Tacky-grippy, incredibly spinny, medium-fast, excellent control.
Technology: Medium-hard sponge, tacky-elastic topsheet.
The AKKADI TAICHI has a tacky-grippy topsheet that creates an extremely high level of spin and rotation. It is available in two versions: The black AKKADI TAICHI features a special black sponge and is slightly harder and more direct than the red version, which has a cream-coloured sponge and is slightly more elastic. The red AKKADI TAICHI provides even better ball feedback. However, for the forehand we would recommend the black version. It opens up an endless range of possibilities when serving to open the game and hitting the first topspin shot in a rally.
control: 8 –
speed: 7
spin: 10+
hardness: Medium+
surface: sticky-elastic
Characteristics: AR, AR +, OFF –
DONIC-Technology: Noppen-Außen-Technology
More Info
Additional information
| | |
| --- | --- |
| Rubber Colour | Red, Black |
| Thickness | 1.5, 1.8, 2.0 |
Delivery & Information
Delivery Information - we are renowned for our prompt delivery, however, please read carefully before ordering to avoid any confusion or disappointment
STANDARD DELIVERY TO THE UK
UK MAINLAND DELIVERY -  Zones 1, 2 and 3 on the map
STANDARD DELIVERY
Q) How much does our STANDARD UK delivery cost?
A) Our Standard UK delivery is £3.99 on every single order below £70, with no minimum spend.
Orders above £70 qualify for free delivery
Q) Which carrier do you use for STANDARD delivery?
A) TA) This will depend on the weight and/or value of your package. We will either use Royal Mail 48 or DPD.
Both services are 'Trackable'. We decide in all cases which carrier is used, although we will consider special requests to use either one or the other.
Q) How soon will my order arrive?
A) Our official quoted delivery time 2-4 working days. This does not include the day the order was received, weekends or bank holidays, although Royal Mail will deliver on a Saturday.
If you place your order after 2pm, we may not process and despatch your order until the following working day. However, your delivery time may often be less than the quoted 2-4 working days.
Although our Free Standard delivery is usually quick, if you need your package urgently, please consider using 'Express' delivery (more details below).
To summarise our standard delivery, as an example, if you were to order on a Saturday, we would ship your order on a Monday, you would normally receive it either Tuesday or Wednesday, but please allow up to Friday.
If it's urgent, please use Express.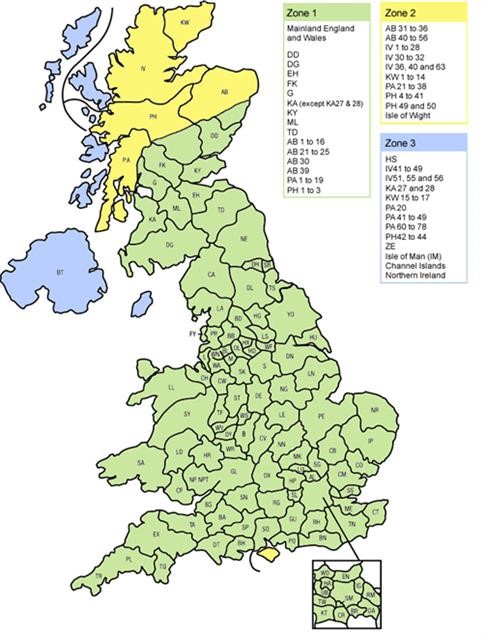 Alternative delivery addresses.
At our discretion, we reserve the right to only deliver to the card billing address as a fraud prevention measure.
OVERSEAS DELIVERY
We offer very competitive overseas delivery rates.
Overseas orders will be charged based on the country of destination, and will be charged at checkout.

Q) How much does our OVERSEAS delivery cost?
A) ZONE PRICES AS PER THE DPD MAP SHOWN
Zone 1 - £11
Zone 2 - £12
Zone 3 - £16
Zone 4 - £26
Zone 5 - £35
Please call + 44 1553 811391 or email tabletennis@jarvissports.co.uk for a delivery quote for outside Europe.
Q) Which carrier do you use for OVERSEAS delivery?
A) We almost always use DPD.  This service is fully 'Trackable'.  We reserve the right to use an alternative carrier and we decide in all cases which carrier is used.
Q) How soon will my order arrive?
A) Please see the DPD map shown, but typical delivery times range between 2-5 working days.
All Newgy products and Table Tennis Tables are excluded from OVERSEAS delivery.  Any orders placed for these items will be cancelled and refunded.